The History of a Family

Reported by Viktor Frank, student of the 11th grade
History teacher: T.P. Kalislyamova
Krasnoyarsk region, Sokhobuzimo district, settlement of Istok
2002
---
The history of our family starts with the publication of the famous manifesto of the 22nd of July 1763, passed at the instance of Catherine II, in which foreigners were called upon to come to Russia in order to take up their permanent residence there and work as crop farmers and craftsmen.
"We decided to follow the appeal of the Russian empress Catherine and set out for the long trip to the east, a "leap in the dark". There, at our final destination, we will lead a fantastic life, which we can already clearly see in our daydreams, although we are filled with fear of all the unknown ahead of us. We – that means Germans from the banks of the river Rhine and the shores of the Baltic Sea, citizens of different nationalities coming from Lubeck, Hesse, Berlin, Gdansk and Konigsberg, born in Poland or Denmark, Sweden or Italy, inhabitants of dozens of villages, towns and European countries".
The way of our great-great-grandfathers which began in 1764, led them across the Baltic Sea, continued on the rivers Neva and Volga and ended in the town of Saratov about two-and-a-half months later. It as a way full of difficulties for both adults and children who, pursued and chased by their living conditions, ran the risk to venture on something completely unknown.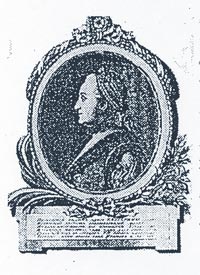 On the 20th of September they went ashore not far from Saratov. Among those who reached the Volga region in 1764 under Captain Paykul from Germany there were Johan Sokolovskiy and his wife; they had come over from Poland. With them starts one of the branches of our family tree. At that time 101 men, 86 women and 146 children reached the banks of the Volga. The resettlers who had come to Saratov under the escort of Paykul's troops, were devided into groups and sent further down the Volga, where they finally settled to both sides of the river for permanent residence. The first places where just arrived newcomers became settled in 1764 were situated on the right banks of the river Volga, on the mountainous side, south of Saratov. These were the villages of Sosnovka (Schilling), Talovka (Baydek), Sevastyanovka (Anton), Ust-Kulalinka (Galka), Nizhnyaya Dobrinka (Dobrinka).
Our forefathers had to bear a fateful life. From the very beginning they were exposed to numerous ordeals: as they were not accustomed to live under the conditions of a continental climate, they were taken ill of malaria, and they had to go through one crop failure after the other. The resettlers were forced to look for seasonal work elsewhere or do handicraft works at home, thus hoping to receive a couple of kopeks. Periodically epidemic diseases broke out in the settlements, both among the people and the cattle; the death rate was high. The conditions which caused such an enormous mortality were still prevailing several decades later. In 1909, in the little village of Stahl on the river Volga, 128 children were born, 178 people passed away, in Kukkus were born 109 children and 128 persons died. In these difficult years my great-grandfathers were born: Veniamin Sokolovskiy (1905), Fyodor Yakovlevich Frank (1905), Georgiy Yakovlevich Gof (or Hof, 1901), as well as my great-grandmothers: Amalia Sokolovskaya (Miller, 1908), Natalia Frank (Grenz, 1903), Yekaterina (or Katharina) Gof (or Hof / Weinberger, 1902).
After even years of constant bad harvests a famine broke out in 1920, which carried off hundreds of thousands of human souls in the Volga region, and in 1930, another year of famine, just as many people starved to death. Apart from the bad economic situation of the Germans on the Volga and in other regions of the country life got worse by a series of infringements and limitations of their rights and even direct persecutions of the German population.
Someone had started to practice a system of stirring up chauvinist hostility against the Germans belonging to the Russian state, and all this was carried out from different levels of the state machinery by using rather filed out methods.
During the years of 1916 to 1920 the tsarist regime, and later, after ist downfall, the Soviet power, accelerated the process of closing all German church-schools.
From 1926 to 1936 the German farmers were ransacked – it was the time of the dispossession of the kulaks, who were turned out from their homes, from their land, and physically extermined. Between 1931 and 1935 the German churches were destroyed.
During the years of 1936 to 1940 the German schools were closed down.
Between 1941 and 1955 the Germans were exiled to Siberia and Kazakhstan and put to the Stalinist concentration camps; their families were torn apart to places far away from each other, and thousands of them were unable till the end of their lives to find their fathers, mothers or children again.
On the 22nd of June 1941 the Germans on the river Volga heard some terrifying news. Most of the men hurried over to the military registration and enlistment office, but there they were told: "Return home until further notice!" But could any of the Volga-Germans have imagined in advance what this "further notice" definitely meant? Even in the worst dreams one could not have pictured that everything the ears had already heard would soon become bitter reality. And this is what the poor people could see and read in the newspapers with their own eyes on the 28th of August 1941: "In view of the fact that many spies and saboteurs have been unmasked among the population of the Volga-Germans, the Autonomous Republic of the Volga-Germans will be dissolved by exiling its German population to other places of the Soviet-Union".
In some damned minute this terrible thought had entered the head of the "father of all people", a thought so rude and naive in all ist simplicity, so unhuman and cruel.
On the 1st of September, instead of going to school, the children were running busily to and fro, helping their parents to gather and pack up all their belongings. Nobody knew, where they would be taken to, which clothes to take along, and for that reason they put everything they could in the wicker-baskets – not only bast mats, but also their traditional straw hats and vests. Just to be on the safe side, they also hid the bible and a Lutheran cross at the very bottom of the basket, below the underclothes, as well as a couple of school-books and the albums with family photos. Thus, Veniamin and Amalia Sokolovskiy, my great-grandparents on my mother's sside, set out on a long journey together with their five year old daughter Berta (my grandmother). As far as my father's side is concerned, all great-grandfathers and great-grandmothers were sent away to Siberia with their children. Fyodor Yakovlevich Frank and Natalia Andreyevna with their children Maria (16 years), Fyodor (14 years), Robert (11 years, my father). Georgiy Yakovlevich Gof (or Hof) with his wife Yekaterina (Katharina) and their children Georgiy (18 years), Fyodor (17 years), Maria (13 years, my grandmother), Milya (11 years), Lydia (3 years). In great haste they were loaded on cattle waggons together with their belongings. The train my grandparents were travelling on first moved off to the north, to Krasniy Kut, passing through places that were known to them from their childhood; then it changed directions and continued for Kazahkstan. Many days and nights slowly passed by, the train going through endless steppes. They thought they would be asked to get off the train in Semipalatinsk, but two locomotives coupled to one another pulled the train on and on – and again there was the rattling of the wheels, when they were rolling over the rail junctions, the hills and birch groves behind the waggon doors and long stops, during which nobody was permitted to get off.
We neither know which authorities decided about all this, nor are there any papers proving that the whole procedure was legal, but one thing is certain: the instructions about which districts they would have to resettle in had already been dropped a long time before. My great-grandparents were assigned the Sukhobusimo district. They were taken to Zaton (town district of Krasnoyarsk (boat-yard); translator's note) early in the morning. From time to time they were using passenger steamers to transport the deporteed further, but such a "comfort" was not a daily occurrence. This time hundreds of people, among them lots of children in early infancy, were loaded on board the towboat "Krasnoyarskiy rabochiy" ("Krasnoyarsk Worker"; translator's note), where they had to find themselves a place between winches, barrels filled with petrol residues and boxes in which the ropes were kept.
Finally they reached Atamanovo. At the grain receiving point a string of carts arrived: it was loaded with grain from Kovrigino. The driver allowed the family of my grandfather Robert Frank and some other families to join the trek. After twenty days full of strains nobody was surprised when the carter announced that Kovrigino was situated at a distance of forty verst (1 verst = 1,06 km). For almost one hour they had to walk uphill. Everybody, except the little children, was walking on foot. Having passed two less steep slopes, the adults decided to find themselves one of the seats available to both sides of the rack waggons, but soon after there was another rise. They reached Kovrigino only at dusk and were assigned accomodation with a single, ill woman. They stayed there till the spring. Grandmother Maria's (Gof / Hof) family got to Shila, grandmother Barta's (Sokolovskaya) to Krasnye Gorki.
In the month of March 1942 the adult men and somewhat elder boys were called up to the labour army. The same thing happened to my great-grandfathers Veniamin Solkolovskiy, Fyodor Frank and Georgiy Gof (Hof); they were forced to work as lumberjacks. They had to work very hard, but only received little and very bad food. Many did not return to their families. My great-grandfathers, too, never came home again. The women were left behind with their children; life had to go on, however, and so all children, except for the little ones, went to work. In the winter they prepared firewood for the Sukhobusimsk thermal power-station, during the summer they made unburnt clay bricks filled with straw or other fibrous materials - all by hand.
In these disastrous, baneful years the aboriginal Siberian population also had a hard life. In 1941 they called my other great-grandfather, Leonid Vasilyevich Bykov, who was born in the village of Nakhvalka, up to the army. He became a sergeant of the guards and commanded a unit. He was killed in action in February 1945. They buried him in the village of Prerstitten (as the place was then called) in the Kaliningrad region (Poland). This is what we learned from the "Book of Memory". They sent my great-grandmother a telegram informing her that he was missing. In fact, he was not heard of again. Great-grandmother Lisa was also left behind as a widow, with two little children holding the hands of their mother. One of them was my grandfather Nikolay Leontyevich Bykov. He managed to finish the primary school. It was impossible for him to attend school any longer, since there were seven children in the family, but only one provider - the mother. He had to help the family and so he went to work. They were working all day and night, for many, many hours - just to get a small piece of bread. He became an adult and got married to Berta Sokolovskaya. Although he could not read and write very well, he became a first-class driver and later a leading tractorist. For his reliable work he was not only once awarded certificates and medals of honour and received cash prizes. He worked throughout his whole lifetime. No sooner had he retired, he started repairing the motors of several tractors of the K-700 type, since none other than my grandfather was able to execute this kind of work in the "Tayoszhniy" sovkhoz. He is now living in Bolshye Prudy; his poor health, however, does not allow him to do any kind of work anymore.
My grandmother, Berta Bykova (Sokolovskaya), finished the seven-class school somewhere in the Pavlovesk region; one could only attend and complete the 8th grade at the school in Sukhobusimo. And then grandma Berta and her mum moved to the third branch of the "Tayozhniy" sovkhoz, and every morning grendma Berta went to school to Sukhobusimo on foot, together with some other children, and back home in the evening. Grandma Berta particularly liked to go to school in winter - on skis. Within half an hour they were on the spot. She finished school and started going to work. She did a good job - at first as a simple worker in a crop brigade, later she was appointed as field-team leader. She was responsible for the whole brigade; she never tired herself out with working, but drudged day and night. Grandmother was awarded certificates of honour and received numerous valuable gifts. Moreover she was handed over three medals for her participation in the All-Russian Agricultural Exhibitions in 1955, 1957 and 1958. In recognition of her extraordinarily good work she was sent to Rybinsk to study at the technical secondary school of agriculture. She finished her studies and happened to get to the second branch, where she was employed as a live-stock expert. Grandmother was a very attentive, responsible and reliable woman. When the bookkeeper was to be replaced, she agreed that she would take over the office from him, but nevertheless she did not beglect her main tasks. It was pleasant and easy to work with her in the office. She was sent to attend accountancy courses. Grandma Berta mastered these tasks, as well as any others, outstandingly well. She began to work as an economist and rate-setter. She was a cheerful, understanding person, prepared to help other people at any time. Shee has been kept in fond remembrance till nowadays. I have never seen my grandmother, because she passed away before I was born.
Four children were born to Nikolay and Berta Bykov: Vladimir (1962), Viktor (1965), Valentina (1966) and Alexander (1976).
Let me come back to my grandparents on my father's side. Having gone on land in Atamanovo, grandma Maria Gof's (Hof's) family came to Shila and, like all the other resettlers, was quartered with people they did not know. The landlords took the Germans in with utmost reservedness and caution: they probably understood that these poor, unlucky people had not come to Siberia at their own request after they had been forced to leave their homes on the river Volga behind. It was an act of providence, it could not be helped. Grandma Maria (who was 13 years old at that time) endured the ordeals of life silently and with utmost patience; in those times children would not make any complaints, at the most they cried of hunger. In 1944 Oma Maria's family moved to Kirpichniy - where very exhausting work was waiting for them once again. Already in 1942 the family of grandfather Robert Frank had moved to Kirpichniy. All children of the resettlers used to work together, and this is why grandfather and grandmother were still children when they met for the first time. However, in 1948, Robert took his family and went to Krasnoyarsk to work for the Voroshilov farm attached to the factory there, but soon after it was liquidated and they had to leave again. In 1949 they got to the fourth branch of the "Tayozhniy" sovkhoz, but there was no possibility to find a lodging. They lived in an apartment in Abakshino, about 3-4 kms away from the fourth branch; they had to go to work there on foot every day. They somehow managed to get over the winter, and when spring was coming, the people gathered fresh hope in a better lot. Some families joined up and started building common dug-outs. They succeeded to get used to their new surroundings, but soon after they were forced to leave the place again, for they had built the dug-outs on land belonging to others. According to grandfather's accounts they later "nailed together boards for a little wooden hut, shingled the roof and painted everything". And there they established themselves.
In 1951 grandfather went to Kirpichniy on horseback, and when he returned home, he brought along his wife Maria Gof (Hof). The children were born "in frightfully cramped conditions", but novody complained or showed his annoyance:
Alexander, born in 1953
Viktor, born in 1955
Mina, born in 1957
Fyodor, born in 1959 (my father)
Nine years later the living conditions improved considerably; they moved to a new settlement, into a house built of squared timber, where they are still living today. Grandmother brought up the children, and when she found apossibility to go to work, she entered service as a seasonal, unskilled worker. She worked for a period of 20 years; her children grew up. Grandma is a pensioner today.
Untill 1966 grandfather Robert worked as a carter at different places of work; in 1966 he was appointed as executive stableman, as he is a very reliable and responsible man. He occupied his post till 1991. My grandfather has been working for 42 years - and he did a good job. This is what one can read up in his work-book; the first entry was made on the 20th of August 1963, the last on the 17th of November 1988. The book includes 22 entries of official expressions of thanks and the awarding of cash prizes. In 1957 grandpa received a medal of honour "for the cultivation of virgin lands", and in 1984 the "Veteran of Labour" medal for his reliable and careful work of many years. Now grandfather is already being on a pension for 10 years.
Starting with the year 1764 the Volga region has been the home region of our family, and only for my parents, my brothers and sisters and me the birthplace and home became Siberia. My mother was born in the Sukhobusimo district, where she grew up; after having finished the school in Bolsheprudovo, she received a special training to be a teacher for the lower grades at the Gorki Teacher's Training College in Krasnoyarsk. Now mum has already been working for the Istosk school for more than 17 years; she teaches the little ones how to write, count, read; and she also teaches them to see the beautiful and to love nature. And this is what she also imparted to me, my mum - my first teacher.
Dad was born in the district of Sukhobusimo, too; he has been living in the settlement of Istok all these years; 26 years he has been working for the "Taiyoszhniy" sovkhoz as a groom. He loves his job, knows all horses by their names, is very well aware of their particulat traits of character and is always very attentive. There always occurs a lot of trouble when foals are born, because they need special care. My father is a wizard: he knows how to repair saddle and harness, he is able to sew together and ornament completely new saddlery - a feast for his own eyes and something to proudly show to the others.
The history of our family covers a period of 237 years starting with the Polish cantons; only little is known about the first 140 years. Having intensively dealt with the lives of my ancestors, I came to the conviction that they were and are industrious people. I am proud of them.
Literature:
V. Aferenko. A Reion in Mid-Siberia
V.G. Fuks (Fuchs). The fateful History of the Volga Germans, 1763-1995
---
Красноярское общество «Мемориал» НЕ включено в реестр общественных организаций «иностранных агентов». Однако, поскольку наша организация входит в структуру Международного общества «Мемориал», которое включено в данный реестр, то мы в соответствии с новыми требованиями российского законодательства вынуждены маркировать нашу продукцию текстом следующего содержания:
«Материалы (информация) произведены, распространены и (или) направлены учредителем, членом, участником, руководителем некоммерческой организации, выполняющей функции иностранного агента, или лицом, входящим в состав органа такой некоммерческой организации».
Отметим также, что Международный Мемориал не согласен с этим решением Минюста РФ, и оспаривает его в суде.